A few months ago the phrase "socially distanced" would have meant nothing to you. In fact we Googled it, and 'social distancing' didn't really much to anyone before Coronavirus evolved.
Today the world has changed, and the restrictions placed on our movement and gatherings have had quite an impact – not only on what we do but on our vocabulary!
When we think of outdoor seating we should think of the sun on our faces, and the breeze in our hair. But right now we're thinking about utilising outdoor space to overcome limitations on space indoors due to the need for social distancing.
That means creating an indoor space, outside.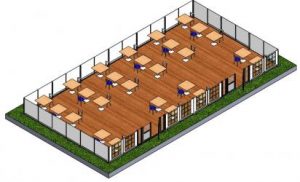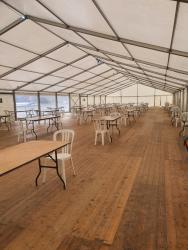 Marquees create outdoor space for socially distanced seating
If you need extra people space, this is where marquees come into their own. For decades the marquee you probably imagine in your head has been used to create undercover space where there is no indoor alternative.
The advantages are obvious:
Marquees are temporary. In fact, whether you consider them for a one-day event or to provide semi-permanent outdoor space, they can be removed quickly.
Marquees can sit almost anywhere. We've used them on car parks and hardstandings, as well as gardens and fields. The one key requirement is for the space to be relatively level.
Marquees really are an all year round space. With modern forms of heating they can be both comfortable, light and practical to keep clean.
Marquees are scalable. Well, our are! This means they can fill small or large spaces, and can also be reduced or extended when your capacity requirements change. Take a look at our article on marquee sizes. https://www.dsmarquees.co.uk/news/guide-to-marquee-sizes/
Marquees are cheap in comparison to fixed outdoor space options or other hire facilities like cabins and yurts. Of course, they're more sensible too.
Marquees are both comfortable and safe – and we have some practical ways of dividing up the space to keep people socially distanced without compromising on atmosphere and communication.
The common uses for outdoor space marquees that we're seeing right now include:
outdoor classroom sand spaces for schools.
outdoor dining and drinking areas for cafés, pubs and restaurants.
outdoor offices for working and trades.
outdoor drop-in spaces for consultants, hair dressers and medical practices.
Whatever environment you are hoping your marquee hire to achieve, we can also supply essentials – the flooring and carpets, seating and furniture, lighting and heating – that you need.
Get in touch to discuss what that may be.