If you have an event to plan and you're unsure of the number of confirmed guests, that's not necessarily a problem. Especially in this crisis, planning for a future event has some uncertainty around guest numbers, so it's important that we're flexible.
Many of our marquee options are modular – so we can add or remove space as you need it. In combination with our refundable deposit during this tough time, this may prove useful for you.
We'll typically need 2 weeks' notice before the event to amend the booking. We don't charge to amend the booking, but there will be more of less to pay depending on the final size and number of guests you need. We'll be able to confirm how your changes affect the additional things you've booked such as flooring, lighting, seating and so on.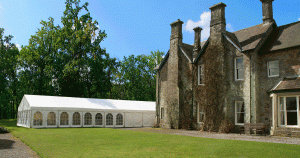 Build your marquee section by section
As a guide, each 3 metre section of the marquee can accommodate 10 people – and we can hold an almost unlimited number of people if you have the ground space!
To give you an idea of how to scale up your ideas, the number of people you seat in each section of a marquee are:
6 metre = 2 round tables seating 10, so 20 guests
9 metre = 3 round tables seating 10, so 30 guests
12 metre = 4 round tables seating 10, so 40 guests…
..and so on.
Remember that you may need need space for catering, a bar, a band or disco, and a dance floor. If in doubt we can recommend the space you need, and help you plan it out. We've done literally thousands before – so you're in the safest of hands.