A winter wedding marquee – something to look forward to!
Do you take this date to be your lawful wedding date, or do you have to hold a future date from this day forward…?
Sadly you may have had to cancel your wedding day, or perhaps you have tied the knot but have to delay the celebration? There is still uncertainty around the COVID-19 virus but what does this mean for your dream day? Do you do it next year, or perhaps look at the benefits of a winter wedding?
A winter wedding may be the perfect solution
Now may be the right time to start planning and rethinking wedding options with a winter theme in mind. And, before you even start to consider the options, here's some reassurance. Our marquees are watertight and have a snow load capacity, so you can rest assured you and your guests can celebrate safely in the warm and without worry. Don't think marquee. Think sanctuary!
There is even more opportunity to get your creative juices flowing, knowing the wedding will happen – and the party will be amazing with the right friends and family present.
We have had to postpone a number of wedding celebrations, but we're taking future bookings and offering a fully refundable deposit so that you really can start again from Autumn onwards.
Why opt for a winter wedding?
Think magical and romantic for a winter wedding maquee. You can create your own wonderland with luxurious and rich colour palettes tempered by soft candle light. The days are often lit by crisp blue skies and magnificent early sunsets, so you can time the wedding to work with nature.
It is the season for romance, after all. In fact winter weddings have become increasingly popular at Devon & Somerset Marquees and it's important to speak with us to reserve a date and get those revised 'hold the date' invitations out.
We have a range of marquee styles suitable for different times of year, and can help you choose the best option for your day. A late autumn or winter wedding can be as spectacular as a summer wedding.
We have found that by limiting outdoor space the atmosphere within can be elevated, and you can include warming features.
Turn up the heat – a true winter warmer
Marquees retain heat well, and when you have people within they are as good as any hall. In fact they're often quicker to warm up. From inconspicuous heaters to patio heaters or fire pits that not only warm the outdoor space, but attract people to it. You'll find it's a warm gathering with a difference that will make your special event even more memorable.
Warming drinks – mouthwatering treats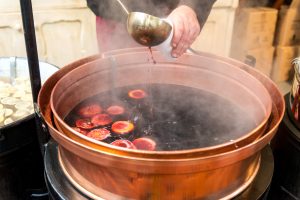 There are some winter classics that have a perfect place in a wedding, from hot toddies to mulled wine. Think about winter Pimms punch for the grown ups and Mulled apple juice for the children. And who doesn't like a rich, smooth hot chocolate and marshmallows? You can even have hot drink and food stations outdoors and make this a mini movie style setting with fake snow!
Themed accessories with winter style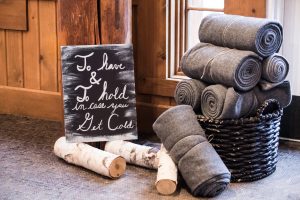 Our customers have given away warming themed pashminas to the ladies, and have had colour coordinated blankets on hand that all elevate the theme. Fur and wool can be quirky alternatives to silk and chiffon, and this may require some imagination. And the buttonholes can also have a more wintery theme or whites and reds.
Food for thought – fabulous winters feasts
Most weddings have a hot meal even in the peak of summer, and winter can be a simple variation of this. Think warm, hearty and seasonal offerings that are really feel-good food. It's important to steer clear from the Christmas culinary staples, but you can think about serving hot canapés with cocktails as the guests gather to set the winter theme. Stews and tagines are warm and inviting, as are roasts and even winter barbecues. Tarts and jacket potatoes are fun as well as filling.
Romantic lighting to set the event off perfectly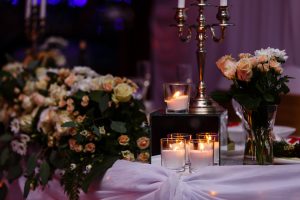 The marquee itself is a blank canvas, so get online and get some themes in mind. We can help with pretty much everything that needs to be sourced. Think carefully about lighting, because there tends to be less natural light in the winter but this gives you the opportunity to look at small, delicate lights that add a wintery twinkle and romantic ambiance to the event.
We'll help with every aspect of your winter wedding if we can.
If your wedding plans have been changed due to the pandemic, or you have just started your wedding planning journey, speak with us today. We are on hand through the lockdown for advice by phone, so please do get in touch.